farm to car: Rail yards market is online until further notice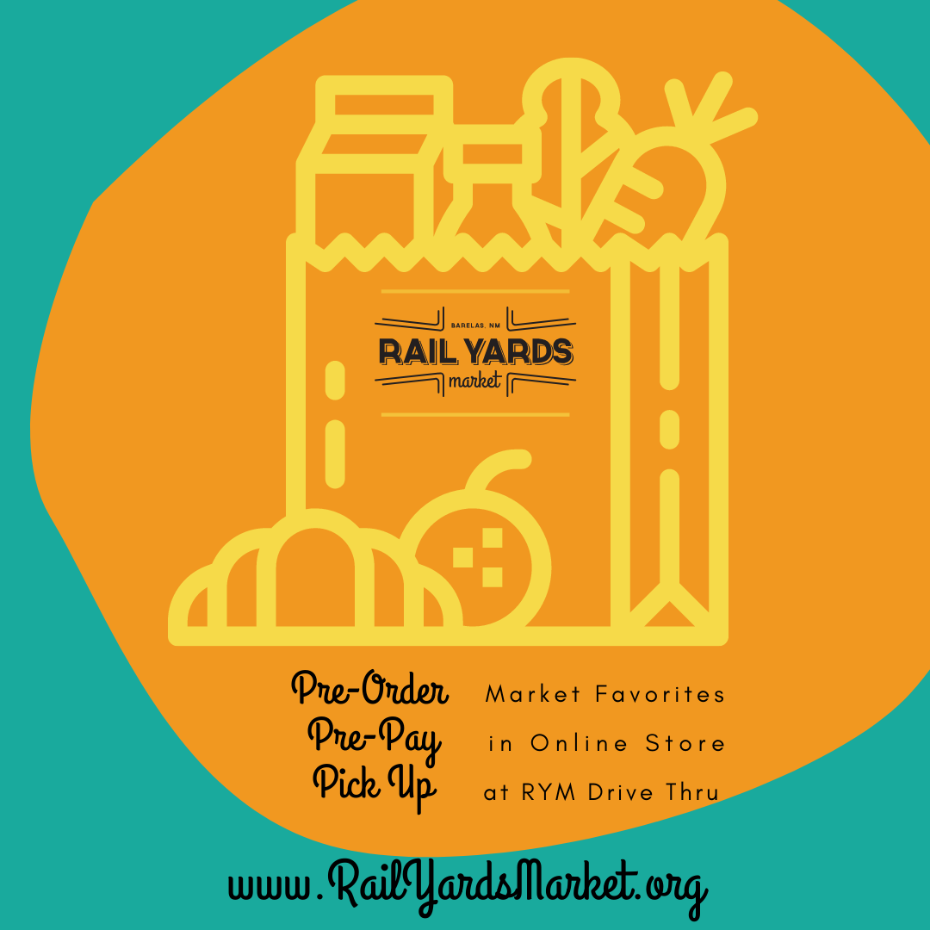 order now for Sunday pickup
Our community is in need of nutrient dense and healthy food. Our farms and food businesses need support. The Rail Yards Market is coming together in partnership with the Barelas Community Coalition and the City of Albuquerque to offer a pre-order & pick-up.
How does it work?
STEP 1:
preorder online
Order up until Thursday night at 11:59pm each week.

Shop local farms and food makers online.

Select items to a cart just like a grocery store.

Make a quick online account, so we can contact you about your order as needed.

Please be sure to add your first & last name to your account, so your pickup is smooth.
STEP 2:
Prepay
Submit one payment just like shopping online or at the grocery store.

The market does have $5 pick-up fee on orders to help us cover staff, safety, and equipment for this drive-thru operation.

The market welcomes EBT, Double-Up-Food-Bucks, WIC and Fresh Rx, but has a special way to access online. Pickup is free for Food Nutrition Services customers.
STEP 3:
Pickup
Please wear masks on arrival.

Drive to the Rail Yards to pick-up 10am-1pm.

Display name (first & last) or receipt on dashboard.

Greeting staff will place an invoice copy on your windshield at the welcome tent.


Drive forward to pickup line.

Unlock car or pop trunk for staff to load your vehicle.

Please stay in your vehicle.

Walk-ins can come to wait in a physically distanced line, but are encouraged to use vehicles if possible to minimize contact.
Reserve order online and then pay with EBT, WIC/Senior voucher checks, or Fresh Rx when you pickup. Please fill out the info form below, and we'll get you access to an online catalog of eligible products. All local fruits & veggies are eligible for Double Up Foods Bucks- a buy-one-get-one free program that matches your SNAP dollars for fresh & local produce.
SENIORS
We're here for you and happy to help you place an order! For assistance, please call 505-600-1109 or email RYMoutreach@gmail.com
ANY // ALL
If the $5 order fee, pick-up logistics, or the online ordering/payment process present a challenge, email RYMoutreach@gmail.com and we will do our very best to accommodate you.
walkers
While vehicles are encouraged in order to minimize contact, the Rail Yards Market will have a walk-in pick-up line with 6 ft distance marks monitored by our staff. Please respect the 6ft marks and keep distance from other customers and staff.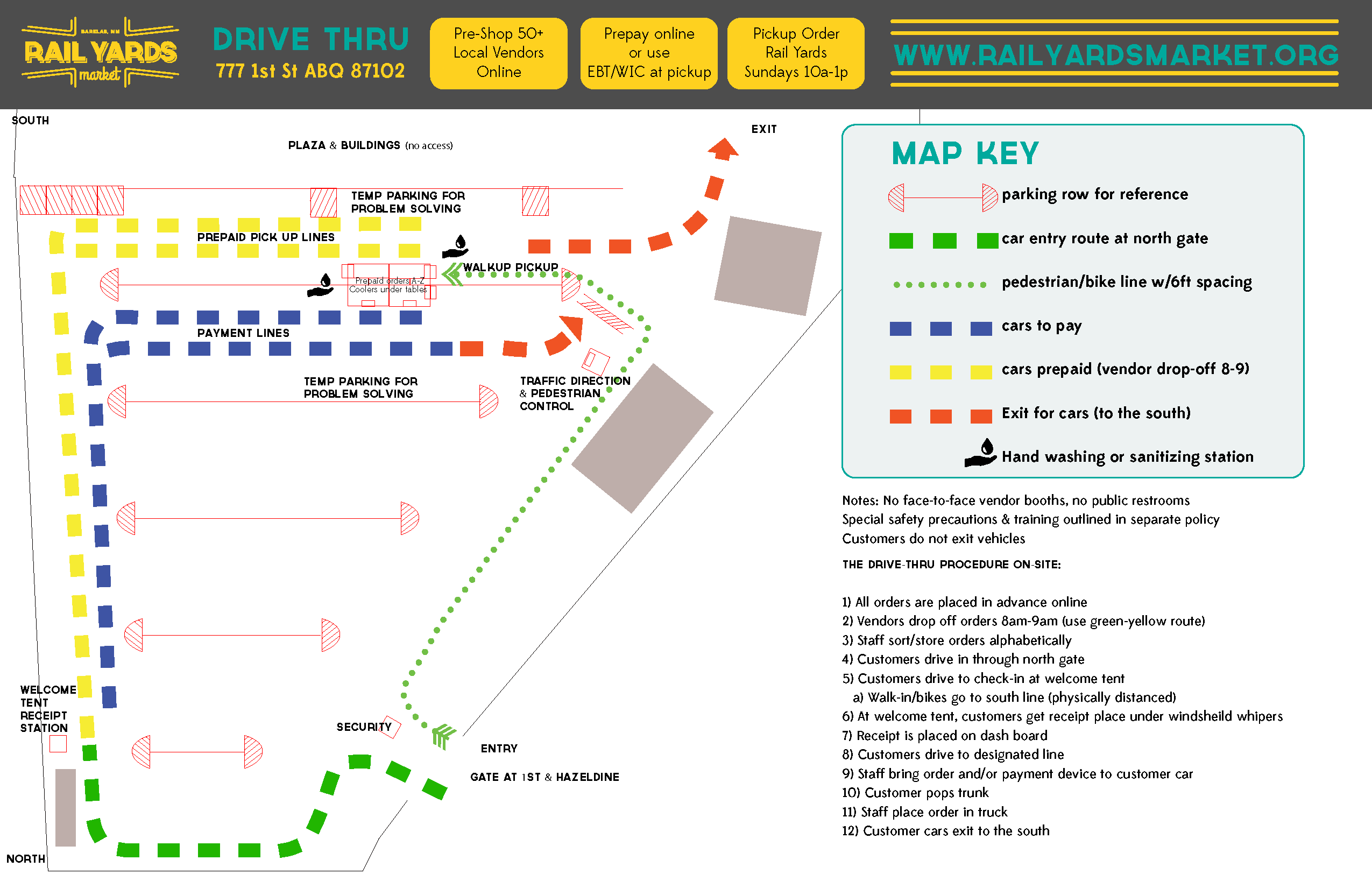 FREQUENTLY ASKED QUESTIONS: FAQ
?Necesitas ayuda en español?
Estamos aquí para ayudarles! Manda un correo electrónico a RYMOutreach@gmail.com para servicios en Español.
What is the market doing to increase safety?
Farmers Markets are deemed essential, however to do our part in stopping the spread of infectious disease, the Rail Yards Market is moving to a pre-order & pick-up market operation plan until further notice.
Enacting all CDC guidelines for Food businesses.

See our full COVID-19 Safety Policy here.

Increased physical distancing, sanitation, personal protection, and training are all in effect for staff.

All food is prepared in a commercial commissary before delivery.

Refrigerated food is kept on ice in coolers.

Produce is pre-washed, but we ALWAYS recommend for you to wash your produce before eating.
How caN I HELP?
Support local! At this time the best way anyone can help the market and our local economy is to support the vendors. Shop your hearts away!
Can I volunteer? At this time we are not having volunteers at the market. To maintain the safest environment, we are only hosting our trained staff, vendors and board members at the Drive Thru.
Can I sponsor? The market desperately needs donations and sponsors!! If you are able to Sponsor our Drive-Thru operations please email Railyardsmarket@gmail.com for further information.
refund/exchange policy?
We recognize that mistakes happen, and we are happy to help. We thank everyone for understanding and patience with this new/pilot program. Vendors work hard to make and harvest your items locally, and staff put in extra effort to procure your order and verify it is correct.

Order modifications: Most modification sent before 11:59pm on Thurs (for Sunday pickup) can be accommodated.

Missing items: Please check your order after pickup; if an item is missing please email RYMinformation@gmail.com by 5pm on Sunday. Depending on the items, we can work to get you your items from the vendor (preferred), or provide a refund within 3-5 business days.
Returns: For safety reasons, we do not accept returns or exchanged food at this time.

Forgotten Orders: Orders that are not picked up by 2pm on Sunday will be donated, without refund to customer.
How can snap customers shop?
There is no pickup fee for Food Nutrition Services customers. To reserve an order online with EBT/SNAP, WIC/Senior voucher checks, or Fresh Rx please fill out info form here, and we'll get you access to an online catalog of eligible products. Our staff update accounts Mon-Thurs 4-5pm. All local fruits & veggies are eligible for Double Up Foods Bucks- a buy-one-get-one free program that matches your SNAP dollars for fresh & local produce.
Why does the market charge a $5 pickup fee?
There is a $5 pickup fee on all customer orders (except for food nutrition services customers such as SNAP). The pickup fees help us pay for a small percentage of the software costs, processing/bank fees, supplies, packaging, PPE, infrastructure (like tents, barricades, and signs), and staff needed to run the drive thru operation. Our savings, vendor fees, and some municipal/federal grants are helping fund the rest of this interim program. If the pickup fee causes hardship in any way to you, please contact RYMoutreach@gmail.com , and we would be happy to accommodate fee removal for you.
10am-1pm, Sundays, May-October
10-4pm Dec 12th & 13th for Holiday Market
777 1st Street SW
Albuquerque, New Mexico 87102
Email: RailYardsMarket@gmail.com
Voicemail: 505-600-1109