Food, Art, Music.
For the Community, by the Community
WHAT IS THE RAIL YARDS MARKET? FIND US
The Rail Yards Market of Albuquerque operates on Sundays from 10am-2pm during the months of May-October. We are a community organized market celebrating all things local and at the heart of New Mexican culture. We are so much more than your typical Farmer's or Grower's Market--every Sunday you can peruse 100's of New Mexico's finest food, farm, artisan, and healing vendors, hear live musicians, and come away enriched from our educational/demonstration zones for kids and adults! All this under one roof at the historic Blacksmith Shop at the heart of our City!
OUR VISION
The Rail Yards Market of Albuquerque is focused on building a resilient, sustainable local economy that we all love to work and play in. Through food, art, and music, we hope to bring our community together in an atmosphere of fun, learning, and creativity. Rail Yards Market is a community organization operating under the fiscal sponsorship of a Barelas Community Coalition, a certified 501(c)(3).
OUR MISSION
The Rail Yards Market's mission is to celebrate the cuisine, culture, and art of Albuquerque and the State of New Mexico. Our commitment is to:
 Preserve the legacy of an historic downtown neighborhood.
 Gather the city's many communities around a shared space.
 Nurture the next generation of local entrepreneurs.
 Create a dynamic hub for Albuquerque's agricultural and artistic communities.
 Promote tourism by providing Albuquerque with a must-see destination in the heart of downtown.
 Demonstrate one of many potential uses for the Rail Yards site.
 Promote the knowledge and preservation of New Mexico's heirloom crop varieties
ALL ABOARD!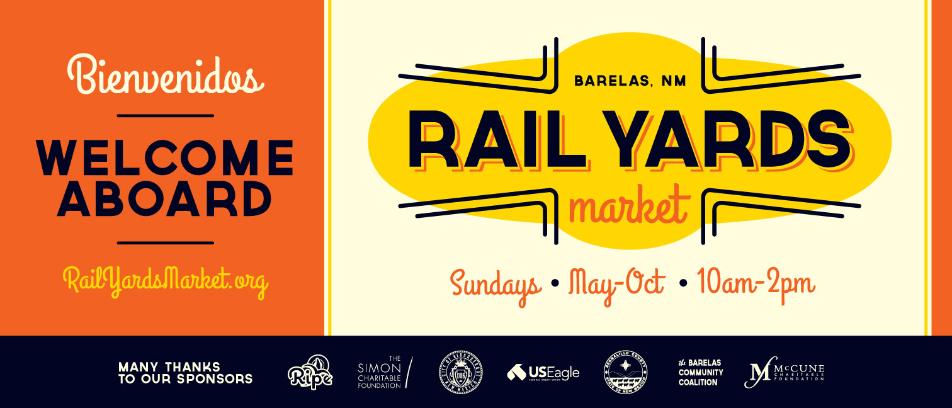 10am-2pm, Sundays, May-October
12-4pm December 9th & 10th, 2017 for Holiday Market
777 1st Street SW
Albuquerque, New Mexico 87102
Email: RailYardsMarket@gmail.com
Voicemail: 505-600-1109