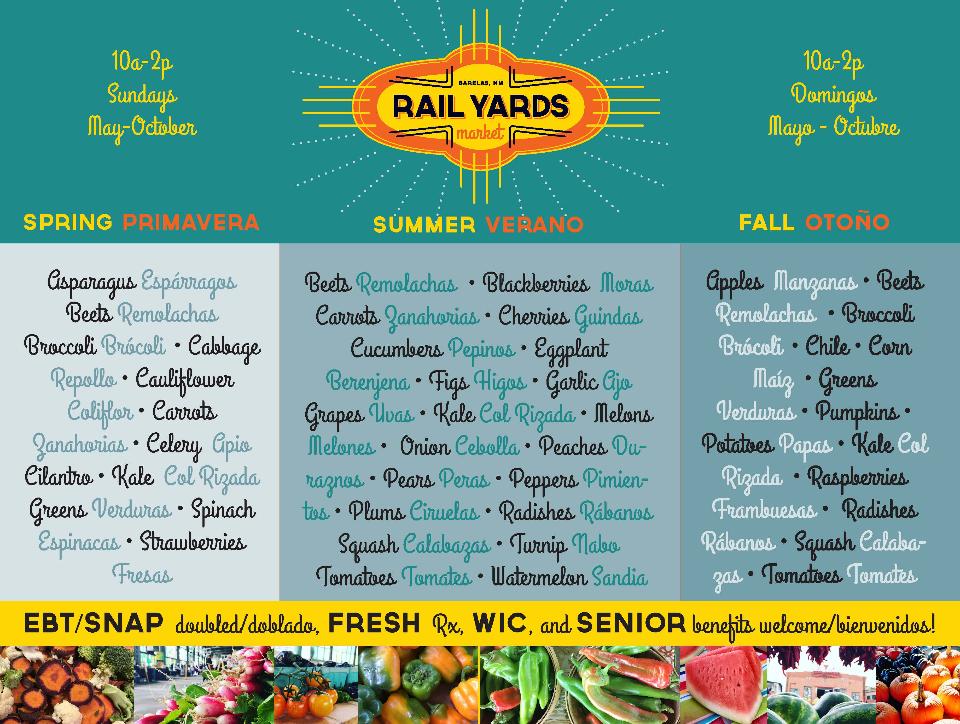 Food, Art, Music.
For the Community, by the Community
WHAT IS THE RAIL YARDS MARKET? FIND US
The Rail Yards Market of Albuquerque operates on Sundays from 10am-2pm during the months of May-October. We are a community organized Growers' Market, established in 2014 by volunteers and neighborhood residents, celebrating all things local and at the heart of New Mexican culture. We are so much more than your typical Farmer's or Grower's Market--every Sunday you can peruse 100's of New Mexico's finest food, farm, artisan, and healing vendors, hear live musicians, and come away enriched from our educational/demonstration zones for kids and adults! All this under one roof at the historic Blacksmith Shop at the heart of our City!
OUR VISION
The Rail Yards Market of Albuquerque is focused on building a resilient, sustainable local economy that we all love to work and play in. Through food, art, and music, we hope to bring our community together in an atmosphere of fun, learning, and creativity. Rail Yards Market is a community organization operating under the fiscal sponsorship of a Barelas Community Coalition, a certified 501(c)(3).
OUR MISSION
The Rail Yards Market's mission is to celebrate the cuisine, culture, and art of Albuquerque and the State of New Mexico. Our commitment is to:
 Preserve the legacy of the historic downtown neighborhoods.
 Gather the city's many communities around a shared space.
 Nurture the next generation of local entrepreneurs.
 Create a dynamic hub for Albuquerque's agricultural and artistic communities.
 Promote tourism by providing Albuquerque with a must-see destination in the heart of downtown.
 Demonstrate one of many potential uses for the Rail Yards site.
 Promote the knowledge and preservation of New Mexico's heirloom crop varieties
ALL ABOARD!
BOARD OF DIRECTORS
The Rail Yards Market of Albuquerque is fiscally sponsored by the non-profit, Barelas Community Coalition, a certified 501 (c) 3, whose Board of Directors is listed HERE.
The purpose of the Rail Yards Market Advisory Council (RYMAC) is to provide informed guidance and oversight on best-practices, policies, and procedures to ensure the sustainability and success of the Rail Yards Market. The RYMAC guides over-all policies and procedures for RYM, but are not responsible for day-to-day decisions, responsibilities, and/or management of the market. The Council appoints a Market Manager that shall report to the Council, present policies etc, and work collaboratively with market staff to implement suggestions.
The RYMAC is a guiding body for RYM, and is comprised of a fourteen community representatives including seats for the following:

Selected by nomination from sitting RYMAC members and approved by simple majority

Artisan Vendor Representative
Agricultural Vendor Representative
South Broadway Neighborhood Resident; Appointed by the South Broadway Neighborhood Association( SBNA)
Fiscal Sponsor Representative; Appointed by the Fiscal Sponsor
Barelas Neighborhood Resident; Appointed by the Barelas Neighborhood Association (BCC)
Downtown Representative; Appointed by the Downtown Mainstreet
San Jose Representative; Appointed by the SJNA
City Representative; Appointed by the Mayor's Office
County Representative; Appointed by the Commissioner for County District 2
South Valley Resident; Appointed by the Historic Bridge Mainstreet group
WHEELS Museum; Appointed by the WHEELS Museum board of directors
Three At-Large Community Representative seats
2019 Rail Yards Advisory Council MEMBERS
Christopher Frechette (Chair, At-Large rep): Christopher has volunteered on committees addressing downtown issues for over 10 years. He was treasurer of the Barelas Community Coalition (fiscal sponsor and partner of the RYM), and has chaired the RYMAC since 2016. Christopher found his vocation in teaching languages. He was raised in a working class Catholic family and absolutely loves baseball. Contact: olierf@aol.com
Joseph Alfaro (Agricultural Vendor rep): Joseph serves as Farm Manager for Valle Encantado Farms (VEF) is a 3.0-acre community owned farm in the South Valley. VEF has parcels along the Atrisco and Five Points communities. As farm manager, Joseph is responsible for managing farm staff, overseeing day-to-day operations, farm planning and farm growth. VEF grows a variety of crops, including root vegetables and, greens. In addition, VEF hosts schools and community groups to educate people about where food comes from and to build deeper relationships among community members. VEF is certified Organic and received the NMDA Educator of the Year award. Prior to VEF, Joseph was a founding member of a small 2.0 Farm located in the East mountains called ORGANICOS, which focused on organic production. Joseph also spent 14 years as a meat cutter and retail associate at Nelson's Meats. He served as a co-founder and board member of Agri-Cultura Network (ACN), a network of small farms working together to sell produce to schools, restaurants and retail customers across the city, and serving on the board of the Rail Yard Market.
Alicia Chavez (Barelas NA rep): Alicia is from New Mexico forever forever. Her mom's family comes from Las Vegas, NM and her dad's family comes from Torréon, NM. Alicia has dedicated her life to working in community for justice and peace. She currently works with Young Women United as the Community Organizing Manager. She has a Bachelor's in Communication and Journalism and a Master's in Community and Regional Planning. Alicia loves plants, cookies, being an explorer and learning.
Alan Armijo (City of Albuquerque rep)
Joseph E. Garcia (S.Broadway rep): I am a retired transit supervisor for the City of Albuquerque. Among my duties, I was the neighborhood liaison for transit issues, spent 15 years on the permitting committee.
Chad Gruber (Barelas Community Coalition/ Fiscal Sponsor rep)
Sean Wells (Artisan Vendor): Sean is an award-winning 5th generation Spanish Colonial artist and juried member of the Spanish Colonial Arts Society in the retablo category. She promotes the traditional arts through her television show, New Mexican Santera. Sean received "Best Visual Artist 2016" by the readers of Albuquerque the Magazine. Sean's artwork has been featured on internationally distributed beer labels (Cerveza de los Muertos), nationally distributed wine labels (La Catrina Vino) and New Mexico Lottery Scratchers for which she received a national award for top scratcher design. Sean has been an active vendor at the Rail Yards Market since the first year and has participated on the Advisory Board as the vendor representative. Sean credits the Rail Yards Market for being a springboard to launch her career as a full-time artist by creating a platform for artists to reach a broad and consistent customer base. Through art, Sean aspires to bring an appreciation for the Hispanic traditions and culture of Northern New Mexico to a broader audience. The Rail Yards Market has been an event close to Sean's heart. She is a strong advocate for artists making a living wage and supporting families through art, especially art that celebrates the culture and history of New Mexico. Sean is very grateful to give back to the community through the Rail Yards Market.
Scott Nacke (At-Large rep): I've been in Albuquerque for over twenty years. I studied art ay UNM, and worked in the museum field for 18 years. I'm a practicing artist and have been living in Barelas for 6 years. I love this community and I am committed to representing Barelas; its diversity, creativity, identity and goals.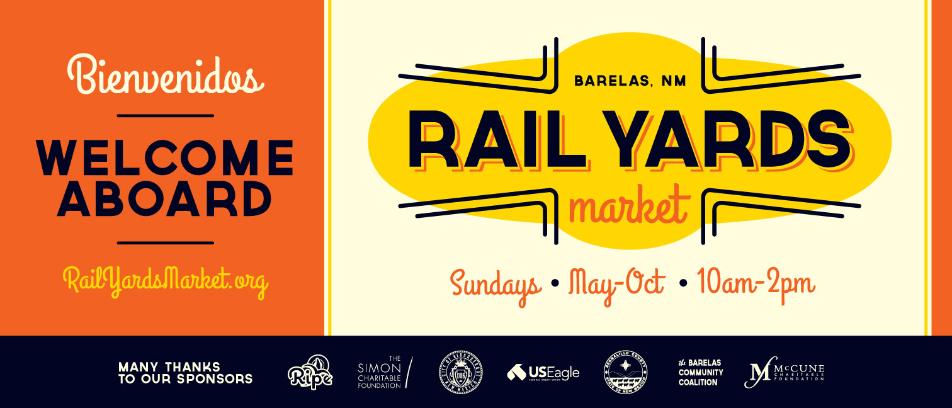 2018 RYMAC
Christopher Frechette (chair)
Joseph Alfaro
Alan Armijo
Alicia Chavez
Chad Gruber
Liz Skinner
Joseph E. Garcia
Sarah Slather
Scott Nacke
Sean Wells
2017 RYMAC
Christopher Frechette (chair)
Joseph Alfaro
Alan Armijo
Gwen

Colonel

Tina Garcia-Shams/ David Sellers
Bernadette Garcia de Rodriguez / Eric Griego
Leba Freed
Chad Gruber
Robert Hoberg
Sarah Slather
Sean Wells
2016 RYMAC
Christopher Frechette (co-chair)
Gwen

Colonel (co-chair)

Joseph Alfaro
Alan Armijo
Bernadette Garcia de Rodriguez / Eric Griego
Chad Gruber
Makhpiya Black-Elk
Jim Duffield
Tina Garcia-Shams / David Sellers
Len Romano
Sean Wells
2015 RYMAC
Chad Gruber (chair)
Joseph Alfaro
Alan Armijo
Gilbert Almager
Makhpiya Black-Elk / Bernadette Garcia de Rodriguez
Annette Colbert
Gwen

Colonel

Jim Duffield
Bernadette Mierra
Eric Griego
Tina Garcia-Shams
Michael Phlieger
Sean Wells

10am-2pm, Sundays, May-October
10-4pm in December for Holiday Market
777 1st Street SW
Albuquerque, New Mexico 87102
Email: RailYardsMarket@gmail.com
Voicemail: 505-600-1109