NEW at the RAIL YARDS MARKET
RAIL YARDS is CLOSED in NOVEMBER
Rail Yards Market is Albuquerque is CLOSED IN NOVEMBER. You can visit in-person May through October and for one weekend in December. We also have pre-ordering online available. Come early and hungry! Visit our "About" page for more information on parking, what to expect, directions and more. Video made by Frederick Trazon Diaz
Holiday Market is DEC 11-12, 2021
Locals unite for a grand re-opening of the Holiday Market in Albuquerque. The Rail Yards Market is pleased to announce the return of the Holiday Market in 2021.
This is an IN-PERSON & TWO DAY event at the Rail Yards in Albuquerque on December 11th-12th, 2021. We bring together the festive and giving spirit of New Mexico in a local tradition of celebrating food, fun, family, and everything handmade for the Holidays.
Sign up to volunteer HERE!
The Vendor application closed Oct 15th.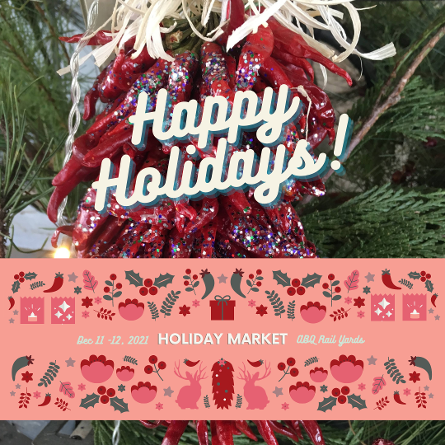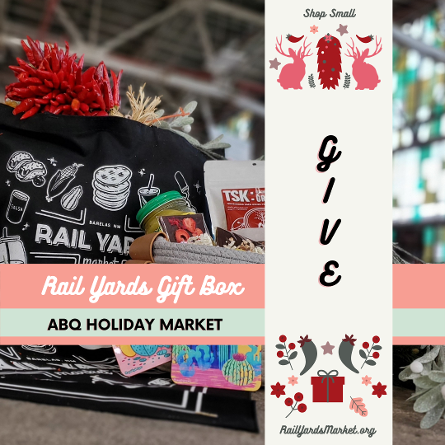 THANK YOU community for supporting small business and convenience in one place. We sold out of all of the gift boxes, and our vendors are sooo happy! Please check emails for delivery/pickup information is you ordered.
We've got you! Order a bountiful gift box for the Holidays online and pickup at one of our many in-person and curbside. Delivery available for most zipcodes in Burque too. All aboard!
Rail Yards Market is hiring!
Join our staff team! The Rail Yards Market is now hiring for several part-time/seasonal positions. Positions range from $12/hr - $17/hr pay. We are looking for community members who...
Are friendly & flexible
Like working outside
Can lift 50 lbs
Have great customer service skills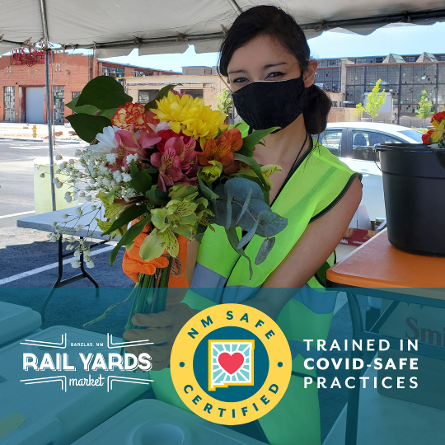 SAFETY AT THE RAIL YARDS MARKET
The Rail Yards Market is NM Safe Certified!
We ask unvaccinated visitors to wear a mask.
Masks required for indoor market.
Please review our quick safety rules before you visit.
Detailed Pandemic Rules & Regulations addendum here.
Rail yards market veggie box: support the market &local farms
The Rail Yards Market brings together several local farms from around Albuquerque and the middle Rio Grande Valley, to provide you with a bountiful assortment of seasonal local veggies & fruits! Every week is a little different and includes a variety produce from participating farms. Most weeks feature 5-8 produce varieties, including vegetables and fruits as seasonally available.
Preorder your veggie box by Friday at 9am June through October for guaranteed pickup at the market Sunday!

Support the market and support local farmers; 75% of sales go directly to farms, and 25% is donated to the market.

Check out our instagram each week to see who is featured @railyardsmarket.abq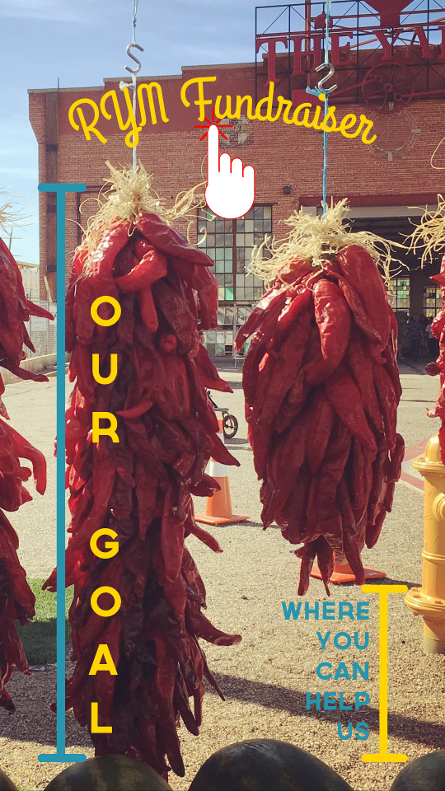 RAIL YARDS MARKET FUNDRAISER
Dear Fellow Burqueños/as
You may know me as the Rail Yards Market. To you, I am so much more than a typicalFarmers' Market. I am...
A resilient hub for food, education, and community 30 weeks out of the year
Home to more than 400 local farmers, makers, bakers and chefs
A place to gather diverse communities around a shared space
The source of that green chile aroma all around
An affordable staple of nourishment and creativity
A historic treasure in the heart of our City
An ode to all things local and fresh
A neighbor who is always there to build connection
That special & important weekly ritual for you and your family
Seeded by the community, for the community
The Sunday intersection of New Mexican cuisine, art, and culture
A stakeholder of economic development and job creation
An idea once thought impossible, but now a must-visit destination to our magical State
If you believe that the Rail Yards Market holds a special place in your heart, like so many of your neighbors, please consider showing some support for our community-powered fundraiser going on right now through May.

If every one of our social media followers gave $1, we'd meet our goal more than 4 times over. Please consider making a small donation to keep us and our small businesses on the tracks at the Rail Yards.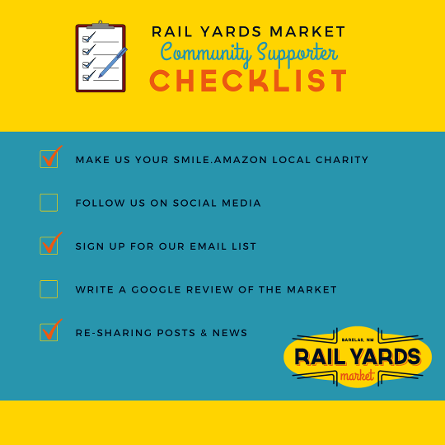 FREE WAYS TO SUPPORT THE RAIL YARDS
Did you know that there are many ways you can help your local Farmers' Markets for FREE?

While we are socially distancing and many of us are staying home and ordering online, one of the best ways to support local non-profits, like the Rail Yards is to stay connected and engage over social media and email.
Another way to support the Rail Yards Market while you shop online is to make us your benefitting charity on amazon. Learn more about amazon donations here.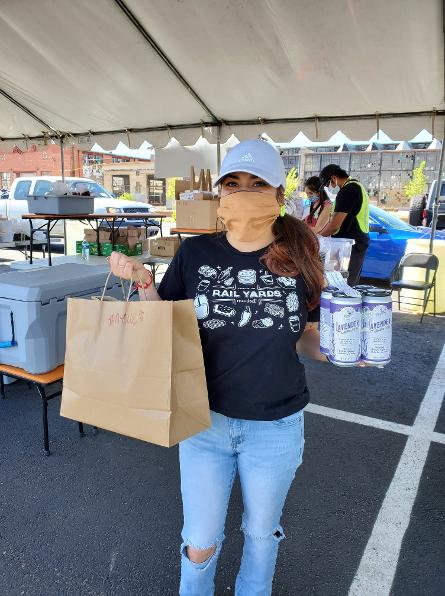 Thank you Holiday market supporters
Albuquerque markets united on December 13th, 2020 to pack 958 orders with 10,000+ products from 137 local farms, chefs, and artisans for the 2020 virtualHoliday Market distribution.

We apologize for any delays with your orders. By Dec 21st, the market resolved 99% of problem tickets submitted. If you have any further order concerns, please contact us here.

Thank you to our sponsors and partners for making this event possible:
Barelas Community Coalition
Downtown Growers' Market
Presbyterian Community Health
Ojo Santa Fe
Homewise
Penske Truck Rentals in Albuquerque
Albuquerque Tents
Follow us for more info on Facebook and Instagram!
rail yards market DRIVE THRU SUCCESS & GRATITUDE
Rail Yards Market wants to extend sincere gratitude to everyone who supported the Farm-to-Car Drive thru during May - June of 2020. Together you have supported over 60 farms, food makers, and artisans. Albuquerque supporting these businesses with over $50,000 in sales during May - June. Thank you! We want to extend a big thank you to our partners and supporters who have made the Farm to Car possible:
Barelas Community Coalition
Barelas Neighborhood Association
City of Albuquerque: Mayor Keller, City Council, and Cultural Services
AAA Pump
ADC Security
America Tent Rental
New Mexico Farmers' Market Association
Presbyterian Health Foundation
Square Inc

Moving into July, the Rail Yards Market will continue to provide online ordering and will be adding face-to-face shopping with vendors with increased safety measures starting July 12th. Many vendors will continue will online orders only, so you can pickup their products at the market info booth. We hope to see everyone with their masks on for SAFE to-go shopping on the Rail Yards plaza.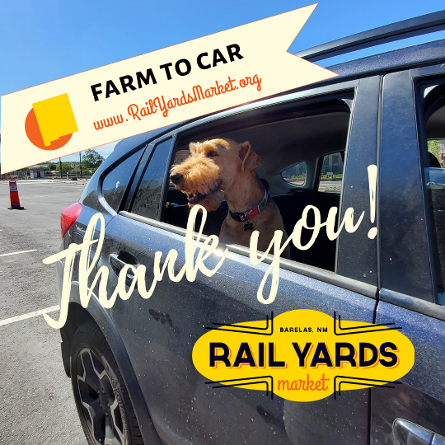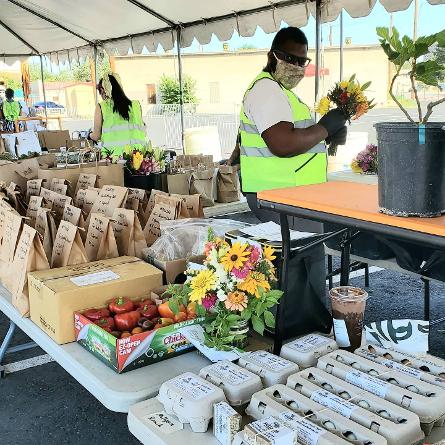 10am-2pm, Sundays, May-October
10-4pm 2nd weekend of December for Holiday Market
777 1st Street SW
Albuquerque, New Mexico 87102
Email: RailYardsMarket@gmail.com
Voicemail: 505-600-1109