Rail Yards market: What's In Season?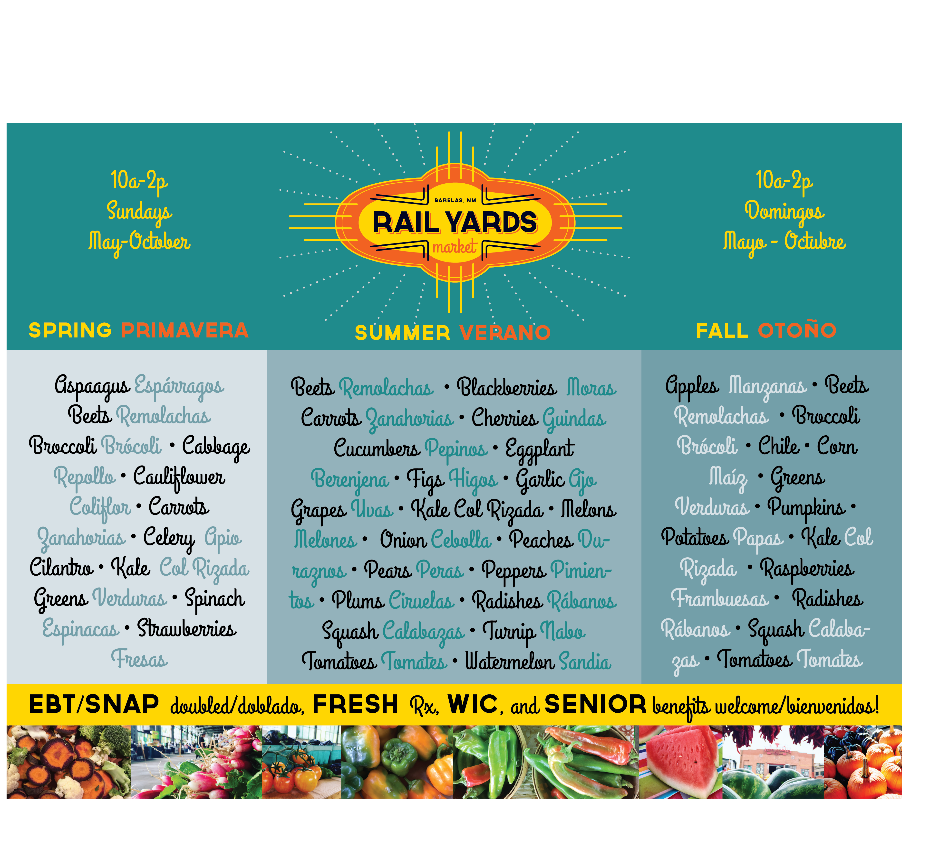 Vendor application open until feb 1st!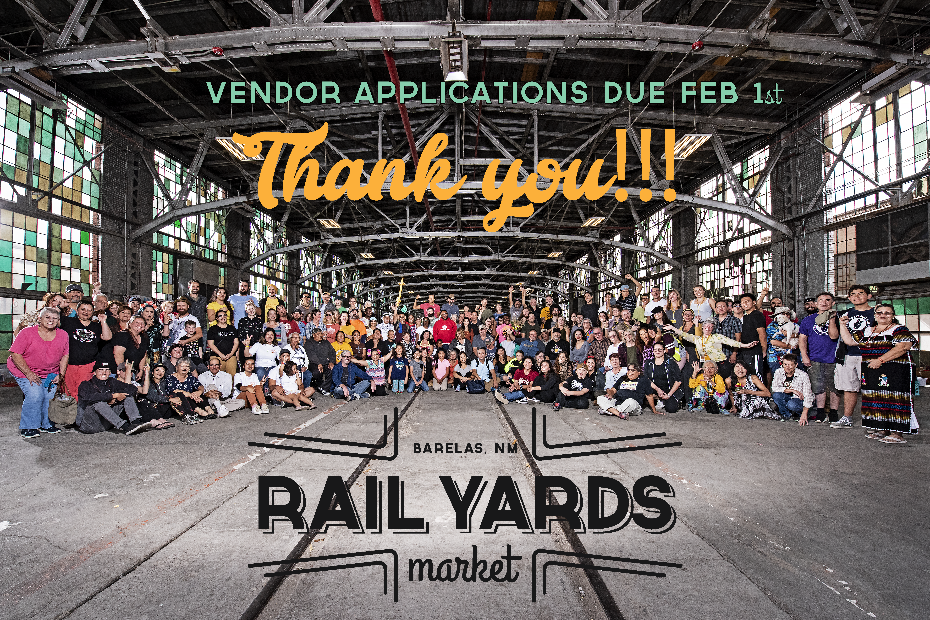 Ready..Set...Grow!! Vendor applications for the 2019 Rail Yards Market season are open until Feb 1st! New and returning vendors apply each season and are reviewed/selected by a community jury.
Application & vendor eligibility/requirement info:
http://railyardsmarket.org/BECOME-a-VENDOR.php
FREE VENDOR APPLICATION WORKSHOPS Jan 18 & 25th!
Need help applying to the Rail Yards Market as a vendor? Attend these TWO FREE computer lab workshops. We'll help you through the process and answer questions...

Intro Workshop Jan 18th (recommended for new vendors): What you need for this workshop: Yourself and an email account. We will answer..

How do you apply for the Rail Yards Market?

What types of Vendors can apply?

What permits, registrations etc are required?

What are the basic functions/areas of the vendor online system?
Advanced Workshop 25th (recommended for vendors who have already made an online account and applied): We will answer...
How are vendors selected?

What does your jury look for?

How can I increase my chances of being selected?
FREE SQUARE SMALL BUSINESS WORKSHOPS Jan 23-26th!
Join Square with Visa, the City of Albuquerque, Accion, the American Indian Chamber of Commerce, the Albuquerque Hispano Chamber of Commerce, Three Sisters Kitchen, African American Performing Arts Center, the Indian Pueblo Cultural Center and the Rail Yards Market of Albuquerque for a series of FREE interactive small business events! Lunch and refreshments will be provided at all workshops. Register NOW CLICK HERE!
Topics include:
Build Your Website with Weebly

Getting Started with Square

Cash Flow Management

Panel: How to Grow Your Business in Person, Online, and Through Social Media

Privacy and Security Best Practices

Selling Successfully Online
Click the link above to sign up today and join us!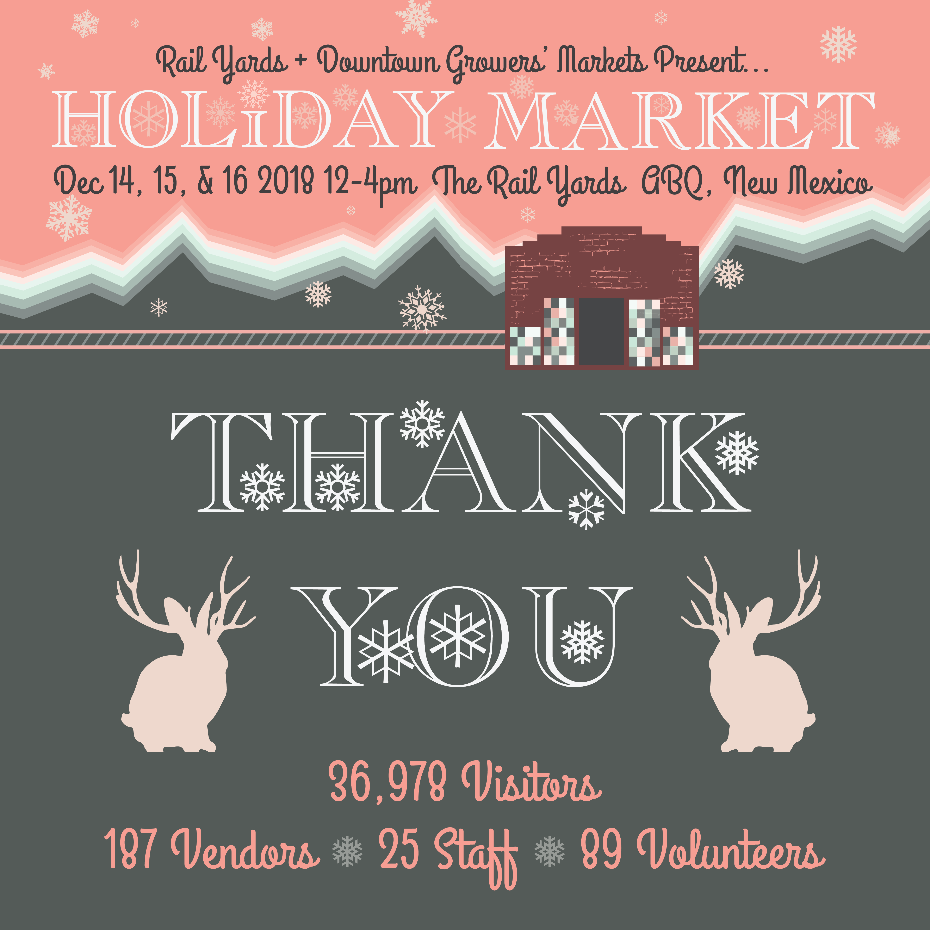 We are overwhelmed with joy! Big thanks to all of the Burquenos and visitors that came out to the 2018 Holiday Market! Together we welcomed over 30,000 visitors over the weekend, and want to sincerely thank everyone for their support. With everyone's generous support we were able to expand market infrastructure, parking and shuttle options. Please visit our Facebook page for many photos of the event!
Need to find a vendor? See our HOLIDAY MARKET MAP & VENDOR LIST HERE.
The City really came together to support this non-profit event in a huge way! Much gratitude to the City of Albuquerque Cultural Services, Economic Development, Planning, Transportation, and Police Services departments.
Special Thanks to:
>>City Councilor Benton
>>Downtown Growers' Market
>>America Tent Rentals
>>Mayor Keller & Assistant Mayor, Gary Lee
The 2019 Vendor Application is open now until Feb 1st. We welcome farms, food makers, healers, and artisans!
Thank you to our Sponsors & Community Partners!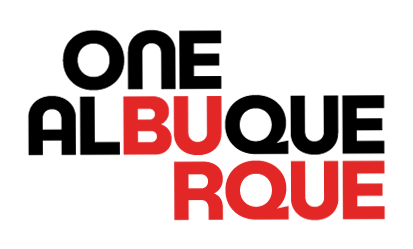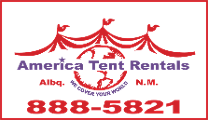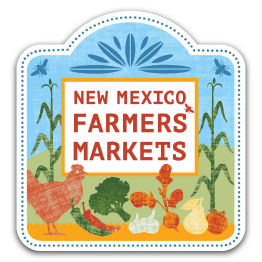 10am-2pm, Sundays, May-October
12-4pm December 14th & 15th 2019 for Holiday Market
777 1st Street SW
Albuquerque, New Mexico 87102
Email: RailYardsMarket@gmail.com
Voicemail: 505-600-1109