Rail Yards market: FAMILY day May 26th, 2019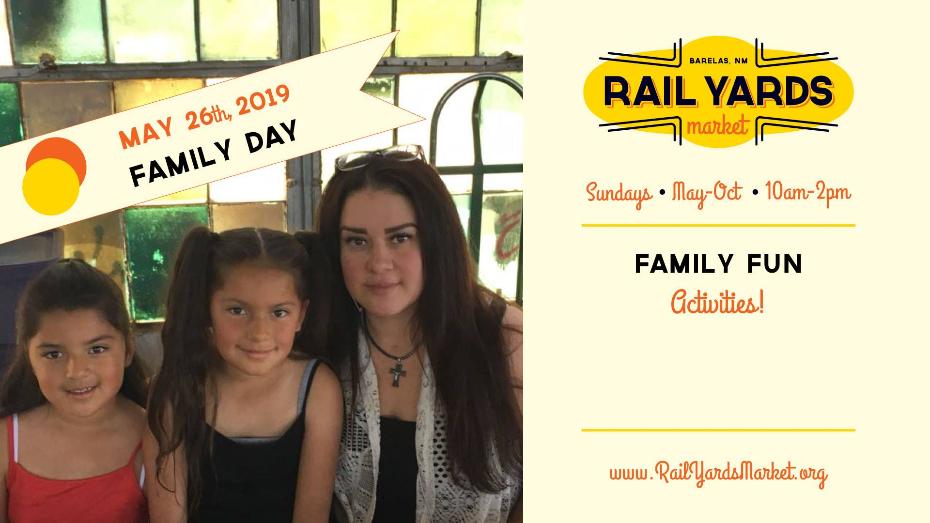 At the Rail Yards Market we welcome families in all shapes and sizes. We honor our biological families, our extended families, our chosen family, our friends, our work families, school families, and folks in our lives. On May 26th we invite you to be part of the Rail Yards Market family!

++++++++++++++++++++++++++++

Free for all! Everyone is welcome!

EBT doubled with Double-Up-Food-Bucks
Senior and WIC programs welcome
Fresh & local produce
Breakfast & lunch prepared food options
100+ local food, healing, and art businesses
ADA parking & restrooms
FREE :: LOCAL :: FAMILY FRIENDLY :: PET FRIENDLY

++++++++++++++++++++++++++++

::ENTERTAINMENT::

FREE Yoga by Bhava Yoga Studio >> 10a-10:45

Travis Hill >> 11:30a

::STEAM ZONE::

<<Seed Balls and Seed Learning Demo>> Desert Oasis Teaching Garden is an experiential garden fostering agricultural abundance, water conservation, and climate adaptability in the desert Southwest. Join them in a family friendly seed learning activity and also learn how to make seed balls!
<<Demonstration>> by Free Access Movements

Our "STEAM" stands for Sustainable, Traditional, Educational, and Artistic modalities! This zone features live demonstrations of art and educational activities including displays, workshops, and presentations that cover a variety of topics including cultural and traditional crafts, food skills, sustainability practices, and gallery displays.

::KIDS ZONE::

Facilitating play with common household items :: The Wemagination Resource Center Table will offer recycled items, often factory extras that would have otherwise ended up in landfills. Varying from the one-of-a-kind to the ordinary, the collection includes foam punch-outs, caps from perfume bottles, beads, paper, and an array of other items in every imaginable color and shape, perfect for inspiring any child (or adult) to play.
Rail Yards market: Super hero day May 19th, 2019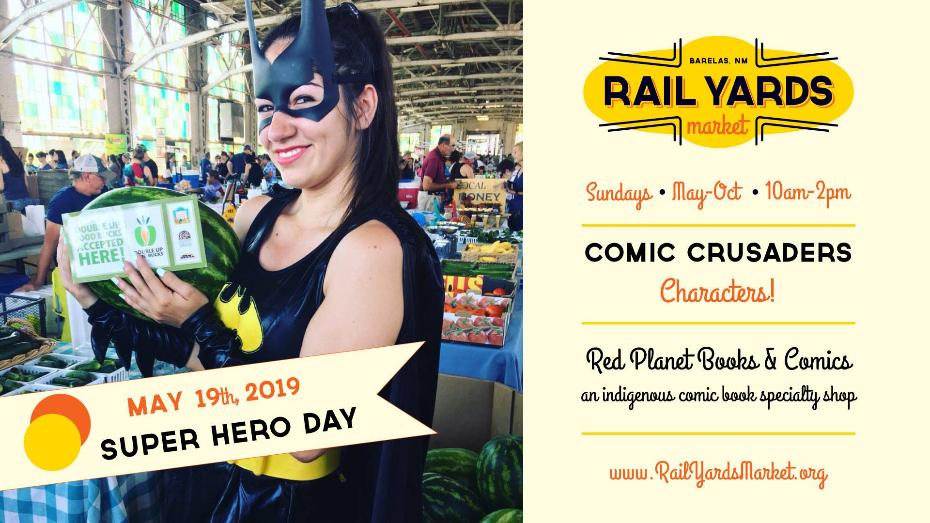 Be a local SUPER HERO at the Rail Yards Market! What's your super power?? Some grow food, make beauty, or nourish those in need. Make a big impact locally by supporting your region's food shed and small business economy. The Kryptonian, Super Man AKA Clark Kent, gained his strong values and altruistic nature from his young days growing up and working on a farm--his adopted Farmer parent endowed him with compassion and taught him to harness his super powers for the help of others.

Our agricultural network in New Mexico is superbly powerful and bountiful and contributes to a growing and flowing history of the Rio Grande basin. Positive change starts from within, and you have the power to transform our world by making sustainable choices and progress in your community.

We expect all of the burque heroes to be in full effect THIS SUNDAY!

::KIDS ZONE::

Cape Making :: Become your own superhero by making your own superhero cape at the Children's Zone! It's Free!

::STEAM ZONE::

Giant Color by Number & look at modern Indigenous literature :: Red planet Books & Comics is a local indigenous literature specialty shop located on park ave of the Raynolds neighborhood. Founder of Red Planet, Lee Francis, will show you a couple of his own comics as well as facilitate a giant color by numbers activity. Come by to see this one of a kind comic book extraordinaire!

Service Dogs are Super! :: Service dogs NM is a life changing service for people with special needs in the community. They help individuals with certain disabilities grow a connection with loving furry service dogs! Owned by veteran Bennie Muliere, Bennie will show us how some of our loyalist companions help with certain disabilities.

::ENTERTAINMENT & MUSIC::

FREE YOGA by Bhava Yoga Studio 10a-1045

Kira Holt- Indie/Alternative sound https://www.facebook.com/KiraHoltMusic/



Rail Yards market: seeds & starts day May12th, 2019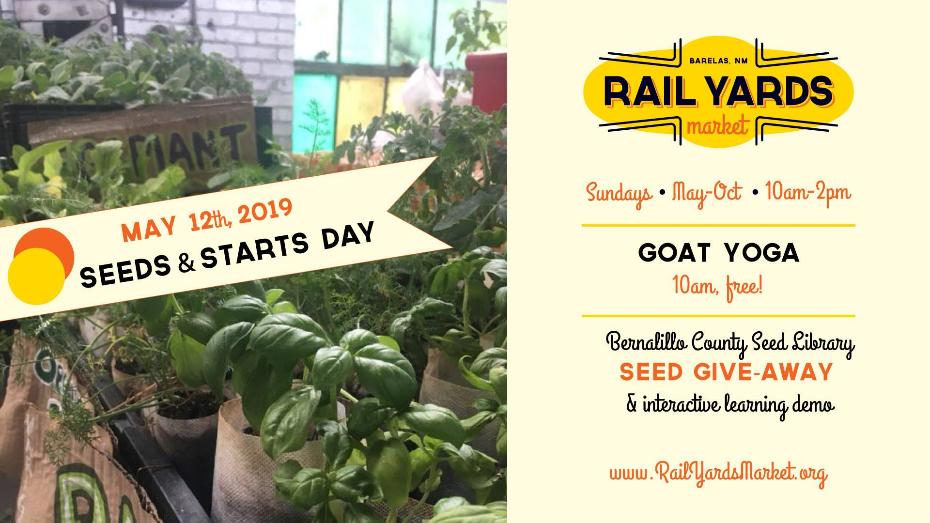 Join us in celebration of Seeds & Starts! Get your seeds and starter plants from your favorite local growers! Learn about composting or beekeeping!

++++++++++++++++++++++++++++++++++++++++++++++++++++++++
Free for all! Everyone is welcome!

EBT doubled with Double-Up-Food-Bucks
Senior and WIC programs welcome
Fresh local produce!!
Breakfast & lunch prepared food options
Handmade Art
FREE :: LOCAL :: FAMILY FRIENDLY :: PET FRIENDLY
++++++++++++++++++++++++++++

<<ENTERTAINMENT & MUSIC>>

FREE GOAT YOGA presented by Duke City Goat Yoga >>10a-11a

Space is limited to 12 people, so arrive early!

The Stray Dawgs >>1130pm

<<STEAM ZONE>>

Composting Demo and Learning :: John Zarola is the director of the Bernalillo County Extension Master Composter program. With his help and the power of volunteer educators, avid gardeners and market goers can learn the basics of composting and answer their questions on the science, materials and methods of home composting. Be apart of this organization's mission to learn how you can transform your organic home waste into a beneficial resource for your vegetables and herbs!

Seed Give Away and Learning :: The Bernalillo Seed Library will be joining the market for a seed give away and lnteractive seed learning demonstration. Check out New Mexico's unique array of heirloom crop varieties that are available for anybody to grow!

Beekeeping Demonstration :: ABQ beekeepers, a non-profit community group, will be demonstrating some basic beekeeping techniques and have a live enclosed hive!

<<KIDS ZONE>>

Make Natural Prints with Play-Dough :: The kids zone will be leading a fun sensory activity for all kids (adults are also welcome) to partake in! Work with Play-dough and learn about the use of seeds and plants from the area to make unique prints!
Rail Yards market:OPENS MAY 5th, 2019 for TRADITIONS DAY THEME
All aboard! The Rail Yards Market, Albuquerque's iconic Farmers' Market is slated to re-open on May 5th, 2019. The market will bloom into its sixth year since opening in 2014, and hosts over 100 vendors of fresh produce, fine food, healing hands, and handmade art. Spring couldn't be here fast enough, as farms, foodies, artisans, and organizers chug along to prepare the finest Growers' Market experience for locals and tourists alike.

The theme for the Rail Yards Market's grand opening is Traditions. The cultivation of our food, telling of stories, teaching of techniques, passing on wisdom, and so much more are important ingredients of our culture and rituals of our existence on this realm. Celebrate our traditions unique to New Mexico and indulge your loca-vorian spirit at the Rail Yards Market!

++++++++++++++++++++++++++++
Free for all! Everyone is welcome!
EBT, WIC, Senior checks, and DUFB welcome
Fresh local produce!!
Breakfast & lunch prepared food options
Handmade Art
FREE :: LOCAL :: FAMILY FRIENDLY :: PET FRIENDLY
++++++++++++++++++++++++++++

::ENTERTAINMENT & MUSIC::
FREE YOGA presented by Bhava Yoga Studio>>10a-11a
Performances TBA

MARIACHI HERENCIA from Atrisco High School >>11:30a

::STEAM ZONE::
<<Live Demonstration>>

~Traditional Spanish Colonial Embroidery Technique by Annette Gutierrez Turk with El Rancho De Las Golondrinas :: Annette is a colcha embroidery artist, who will demonstrate the Spanish Colonial embroidery technique to visitors. She is a juried artist in the Spanish Colonial Artist Society and can be found at Spanish Market each year. Annette weaves her base fabric, dyes the yarns and designs her own work. She has taught locally, regionally, as well as internationally. Her work is in the collections of the Museum of Spanish Colonial Art in Santa Fe and the Guizhou Ethnic Cultural Museum, Guiyang, China.

~Traditional Healing Medicine Using Native Plants by The Yerba Mansa Project :: Join Yerba Mansa Project Director, Dara Saville, for this free talk and demonstration of how we can use local native herbs and plants for healing. Learn how to make a tincture and take home some complete knowledge of how to utilize natural surroundings to support your health.

::KIDS ZONE::

Play LOTERIA in the kids zone! This traditional game, similar to bingo, is played during most hispanic festivities and is a great bilingual activity for everyone!
Rail Yards market: What's In Season?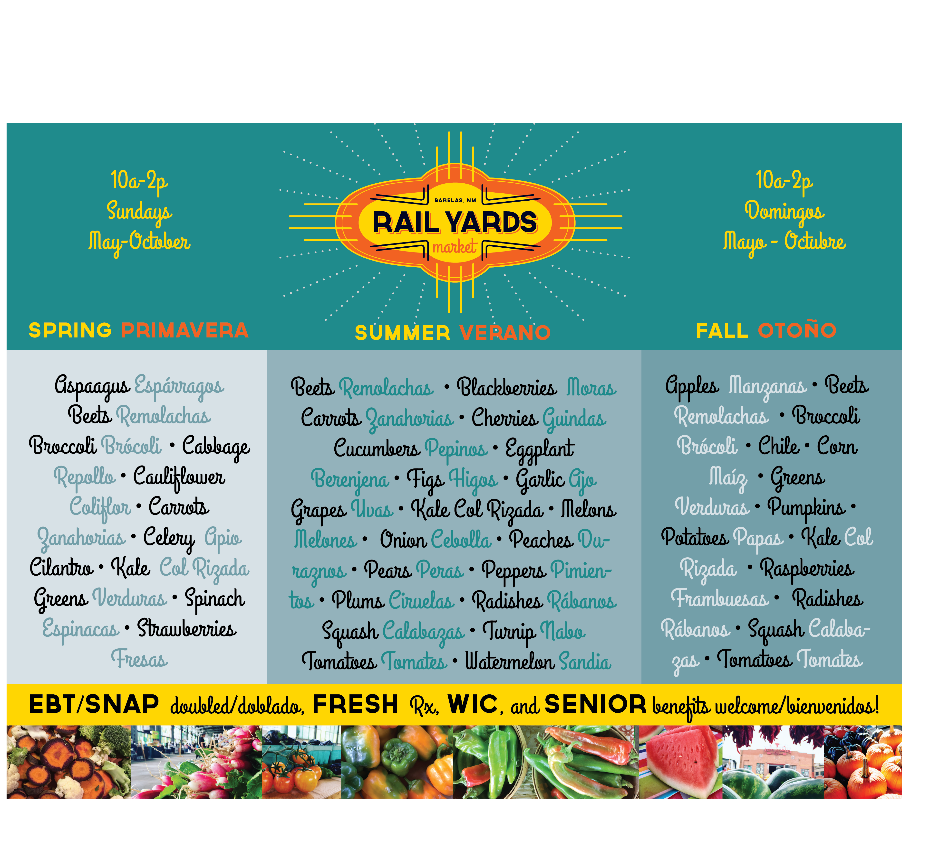 Vendor application open until feb 1st!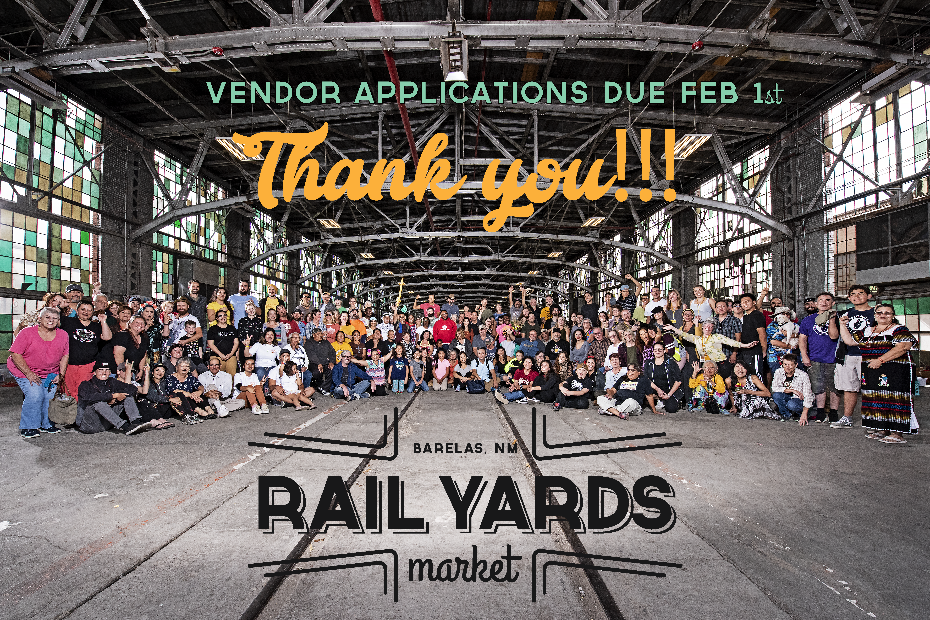 Ready..Set...Grow!! Vendor applications for the 2019 Rail Yards Market season are open until Feb 1st! New and returning vendors apply each season and are reviewed/selected by a community jury.
Application & vendor eligibility/requirement info:
http://railyardsmarket.org/BECOME-a-VENDOR.php
FREE VENDOR APPLICATION WORKSHOPS Jan 18 & 25th!
Need help applying to the Rail Yards Market as a vendor? Attend these TWO FREE computer lab workshops. We'll help you through the process and answer questions...

Intro Workshop Jan 18th (recommended for new vendors): What you need for this workshop: Yourself and an email account. We will answer..

How do you apply for the Rail Yards Market?

What types of Vendors can apply?

What permits, registrations etc are required?

What are the basic functions/areas of the vendor online system?
Advanced Workshop 25th (recommended for vendors who have already made an online account and applied): We will answer...
How are vendors selected?

What does your jury look for?

How can I increase my chances of being selected?
FREE SQUARE SMALL BUSINESS WORKSHOPS Jan 23-26th!
Join Square with Visa, the City of Albuquerque, Accion, the American Indian Chamber of Commerce, the Albuquerque Hispano Chamber of Commerce, Three Sisters Kitchen, African American Performing Arts Center, the Indian Pueblo Cultural Center and the Rail Yards Market of Albuquerque for a series of FREE interactive small business events! Lunch and refreshments will be provided at all workshops. Register NOW CLICK HERE!
Topics include:
Build Your Website with Weebly

Getting Started with Square

Cash Flow Management

Panel: How to Grow Your Business in Person, Online, and Through Social Media

Privacy and Security Best Practices

Selling Successfully Online
Click the link above to sign up today and join us!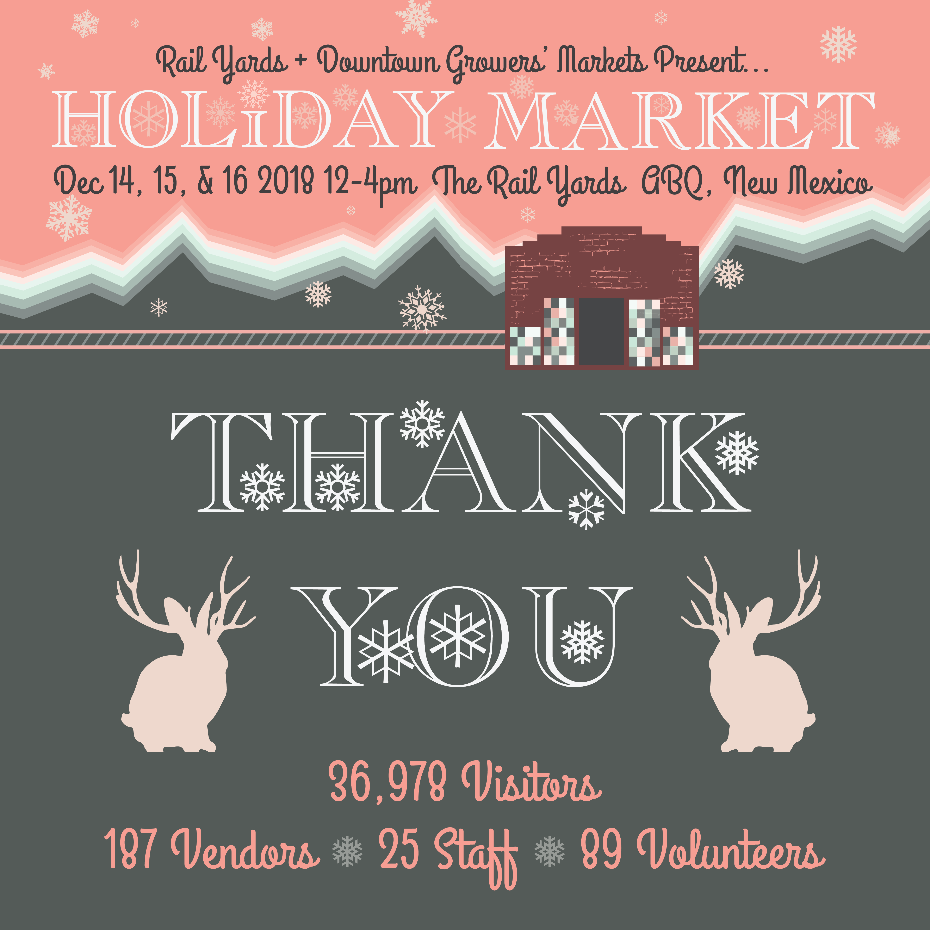 We are overwhelmed with joy! Big thanks to all of the Burquenos and visitors that came out to the 2018 Holiday Market! Together we welcomed over 30,000 visitors over the weekend, and want to sincerely thank everyone for their support. With everyone's generous support we were able to expand market infrastructure, parking and shuttle options. Please visit our Facebook page for many photos of the event!
Need to find a vendor? See our HOLIDAY MARKET MAP & VENDOR LIST HERE.
The City really came together to support this non-profit event in a huge way! Much gratitude to the City of Albuquerque Cultural Services, Economic Development, Planning, Transportation, and Police Services departments.
Special Thanks to:
>>City Councilor Benton
>>Downtown Growers' Market
>>America Tent Rentals
>>Mayor Keller & Assistant Mayor, Gary Lee
The 2019 Vendor Application is open now until Feb 1st. We welcome farms, food makers, healers, and artisans!
Thank you to our Sponsors & Community Partners!

10am-2pm, Sundays, May-October
12-4pm December 14th & 15th 2019 for Holiday Market
777 1st Street SW
Albuquerque, New Mexico 87102
Email: RailYardsMarket@gmail.com
Voicemail: 505-600-1109