Love the market?? Become a market member!
How it works?
Subscribe Online HERE
Select your monthly donation amount/benefits level
Pick up your awesome Member Key Chain at the market info booth
Start using your Market Member perks!
Its Easy! Just show your keychain to redeem benefits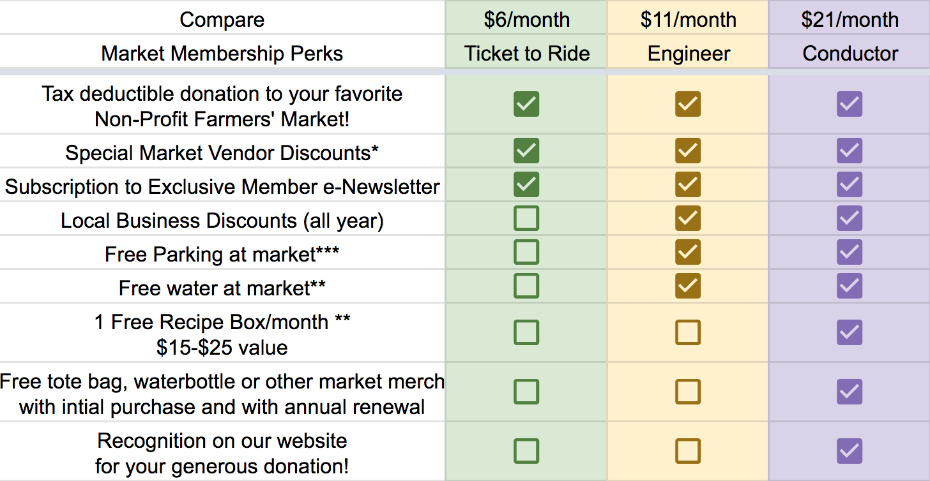 *Valid at participating Vendors May-Dec; listed on website & E-Newsletter
**Valid at Sunday markets June-Oct; show keychain at recipe box booth
***Valid at Sunday markets May-Dec; show keychain to parking attendant
Market Members Frequently Asked Questions
How do I get my perks? We've created a special member package with different perks for each level. Most perks can be redeemed by simply showing your keychain at the place of purchase. You can pick up your keychain at the info booth once you make your first month's payment for your membership Vendor deals: Just show your keychain to the participating vendor so they know to give you the Member Deal. Local Businesses: Show your keychain to the clerk at check out. Parking: Show your keychain to the parking attendant .Water, Recipe Boxes, Merch, prizes: Show your keychain to the info booth sales person
Which Vendors offer discounts? Specific vendors sign-up to offer member incentives. We are getting new vendors all the time, so stay tuned for a full list in your newsletter and here soon!
What local businesses offer deals for members? Brick-and-Morter Store fronts and community partners offer special deals for market members when you visit year round. This perk is currently in development with our partners. We will list the businesses on our website, and if we have the resources, sometimes have a printed list at the front info booth.
How do I get my cool Market Member keychain? Once you've signed up online, and made your first month's payment, you can pick up your keychain at the market's Info Booth.
Why do you need donations when the market isn't running? We build an amazing community event during May-October, and in December. During the off-season we are hard at work providing free workshops to local businesses, educating staff and volunteers, helping vendors apply, getting a community jury together and so much more. Member donations in the off season make it possible for us to have a strong market during the Summer/Fall.

10am-2pm, Sundays, May-October
10-4pm in December for Holiday Market
777 1st Street SW
Albuquerque, New Mexico 87102
Email: RailYardsMarket@gmail.com
Voicemail: 505-600-1109