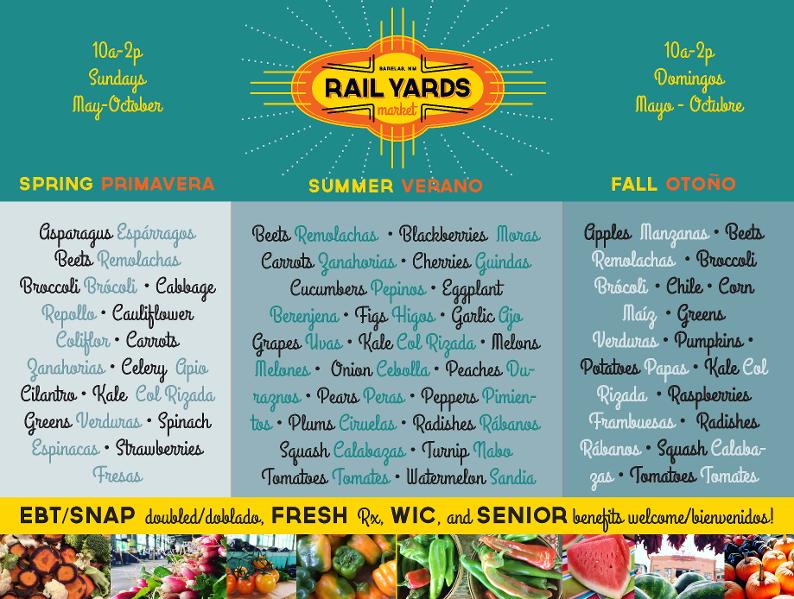 WHAT IS THE RAIL YARDS MARKET? FIND US
The Rail Yards Market of Albuquerque operates on Sundays from 10am-2pm during the months of May-October. We are a non-profit run growers' market, originally established in 2014 by volunteers and neighborhood residents, celebrating all things local and at the heart of New Mexican culture. We are much more than your typical farmer's or grower's market; every Sunday you can peruse 100's of New Mexico's finest food, farm, artisan, and healing vendors, hear live musicians, and come away enriched from our educational and demonstration zones for kids and adults! All this is located at The Yards in the historic Barelas neighborhood in the heart of our City!
OUR VISION
The Rail Yards Market of Albuquerque is a certified 501(c)3 non-profit focused on building a resilient, sustainable, local economy where the surrounding historic communities thrive, all can participate, and everyone is enriched and inspired. Through food, art, education, and music, we invite the community together in an inclusive and festive atmosphere.
OUR MISSION
The Rail Yards Market's mission is to celebrate and promote the diverse cuisine, culture, and art of Albuquerque and the State of New Mexico. Our commitment is to:
Collaborate with and reflect the Barelas, South Broadway, San Jose, South Valley, and Downtown neighborhoods.
Gather the city's many communities around a welcoming space that honors diversity.
Support local entrepreneurs through a dynamic agricultural, artistic, and culinary hub.
Offer accessible and affordable programming, services, locally-grown foods, and locally-made products.
Preserve the knowledge of New Mexico's traditional cuisine, culture, art, and heirloom crop varieties.
Promote tourism by preserving the history and activating a must-see destination in the heart of downtown.
ALL ABOARD!
BOARD OF DIRECTORS
The Board provides informed guidance and oversight on best-practices, policies, and procedures to ensure the sustainability and success of the Rail Yards Market. As the guiding body for RYM, the Board of Directors is comprised of seventeen community representatives including seats for the following:
Selected by nomination from sitting members and approved by simple majority
Two Vendor Representatives
Two South Broadway Neighborhood Residents; Appointed by the South Broadway Neighborhood Association( SBNA)
Two Barelas Community Coalition Representatives; Appointed by the BCC
Two Barelas Neighborhood Representatives; Appointed by the Barelas Neighborhood Association (BCC)
Two Downtown Representatives; Appointed by the Downtown Mainstreet
Two San Jose Representatives; Appointed by the SJNA
Four At-Large Community Representative seats
Rail Yards BOARD MEMBERS
Deonte Halsey (President, Vendor rep): Deonte is a small business owner who operates Biscuit Boy: a mobile food business operating out of the South Valley. He is a member of the South Valley Economic Development Center, an organization that works to start up and improve small businesses. He enjoys cooking competitions, art, community service projects, and travel. His goal in life? "To leave every community in some way better than when he arrived there." Deonte@gmail.com
Joseph E. Garcia (South Broadway rep): I am a retired transit supervisor for the City of Albuquerque. Among my duties, I was the neighborhood liaison for transit issues, spent 15 years on the permitting committee. I also serve on the Rail Yards Advisory Board for the City of Albuquerque.
Scott Nacke (Treasurer, At-Large rep): I've been in Albuquerque for over twenty years. I studied art at UNM, and worked in the museum field for 18 years. I'm a practicing artist and have been living in Barelas for 6 years. I love this community and I am committed to representing Barelas; its diversity, creativity, identity and goals.
Keith Romero (Barelas Community Coalition Executive rep): I am multi-generational Barelas native. I was born and raised in Barelas a good part of my life, and my wife and I are residents at our current home for the last 20 years. I went to school at Coronado Elementary, Dolores Gonzales, Washington Middle school, Jefferson Middle School, Albuquerque High and spent many summers and after school at the Barelas Community Center. After living in other areas of the city, I moved back downtown during my undergraduate and law school attendance both at the University of New Mexico, and ultimately to Barelas when I became a lawyer with the state in 1995. My legal career has included Public Defense, working as Assistant Attorney General in the consumer protection division, and private practice. A portion of my practice still remains dedicated to social justice and public interest law, particularly as it relates to non-citizen clients. I have strong ties to Barelas and am passionate about its history and its potential.
Cristina Rogers (Barelas Community Coalition rep)
Francis Armijo (South Broadway rep): Frances Armijo (South Broadway rep) is currently the president of the South Broadway Neighborhood Association. She is a life-long resident of South Broadway. She is a member of the large Nunez family, which originally lived either in South Broadway or Barelas. Frances grew up on Commercial, across from the rail yards. The busy train activity, workers entering and leaving the rail yards, the "silbar" or whistle, and the quick route through the rail yards to downtown still remain very vivid memories for her. Frances has an MABA, and is a retired staff member from Sandia Laboratories. To her, the success of the rail yards is just as important to South Broadway as it is to Barelas.
Leslie Shioshita (Barelas Neighborhood Association rep)
Courtney Bell (Barelas Neighborhood Association rep) Courtney Bell has lived in Barelas since 2004 and has two small businesses based in the neighborhood. She acts in film and TV whenever she can and will never pass up an opportunity snowboard in Taos. Courtney is also a Barelas Neighborhood Association board member.
Danielle Schlobom (Downtown Mainstreet rep)

Christopher Frechette (At-Large rep): Christopher has volunteered on committees addressing downtown issues for over 10 years. He was treasurer of the Barelas Community Coalition (fiscal sponsor and partner of the RYM), and has chaired the RYMAC since 2016. Christopher found his vocation in teaching languages. He was raised in a working class Catholic family and absolutely loves baseball. Contact: olierf@aol.com

Ansely Emeanuwa (Vendor Agricultural Rep)
Sean Wells (Advisory seat): Sean is an award-winning 5th generation Spanish colonial artist and juried member of the Spanish Colonial Arts Society in the retablo category. She promotes the traditional arts through her television show, New Mexican Santera. Sean received "Best Visual Artist 2016" by the readers of Albuquerque the Magazine. Sean's artwork has been featured on internationally distributed beer labels (Cerveza de los Muertos), nationally distributed wine labels (La Catrina Vino), and New Mexico Lottery scratchers for which she received a national award for top scratcher design. Sean has been an active vendor at the Rail Yards Market since the first year and has participated on the Advisory Board as a vendor representative. Sean credits the Rail Yards Market for being a springboard to launch her career as a full-time artist by creating a platform for artists to reach a broad and consistent customer base. Through art, Sean aspires to bring an appreciation for the Hispanic traditions and culture of Northern New Mexico to a broader audience. The Rail Yards Market has been an event close to Sean's heart. She is a strong advocate for artists making a living wage and supporting families through art, especially art that celebrates the culture and history of New Mexico. Sean is very grateful to give back to the community through the Rail Yards Market.
Joseph Alfaro (Advisory Agricultural rep): Joseph serves as Farm Manager for Valle Encantado Farms (VEF) is a 3.0-acre community owned farm in the South Valley. VEF has parcels along the Atrisco and Five Points communities. As farm manager, Joseph is responsible for managing farm staff, overseeing day-to-day operations, farm planning and farm growth. VEF grows a variety of crops, including root vegetables and greens. In addition, VEF hosts schools and community groups to educate people about where food comes from and to build deeper relationships among community members. VEF is certified organic and received the NMDA Educator of the Year award. Prior to VEF, Joseph was a founding member of a small 2.0 Farm located in the East mountains called ORGANICOS, which focused on organic production. Joseph also spent 14 years as a meat cutter and retail associate at Nelson's Meats. He served as a co-founder and board member of Agri-Cultura Network (ACN), a network of small farms working together to sell produce to schools, restaurants and retail customers across the city, and serving on the board of the Rail Yard Market.