NEW at the RAIL YARDS MARKET
rail yards market VENDOR APPLICATION due feb 1st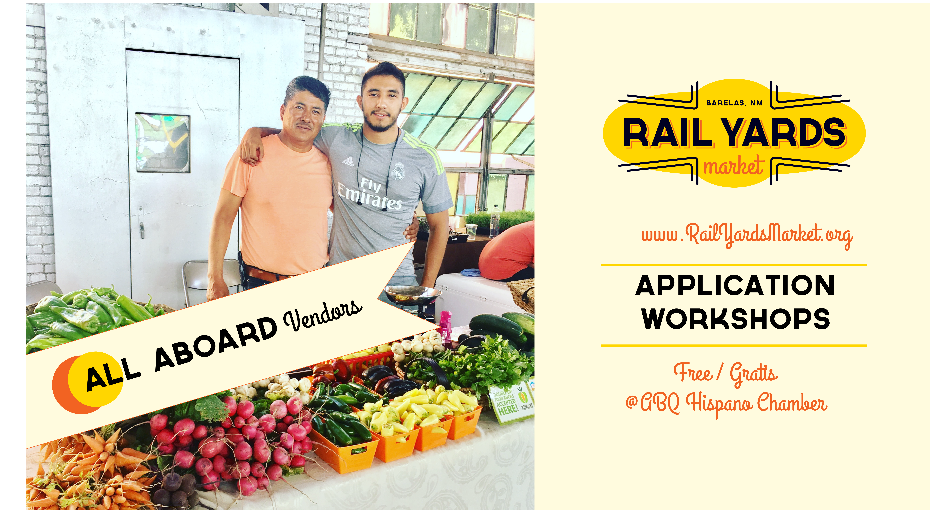 Ready..Set...Grow!! Vendor applications for the 2020 Rail Yards Market season are open until Feb 1st! New and returning vendors apply each season and are reviewed/selected by a community jury. Application & vendor eligibility/requirement info: http://railyardsmarket.org/BECOME-a-VENDOR.php
FREE VENDOR APPLICATION WORKSHOPS JAN 17 & 24TH 6pm!
ed help applying to the Rail Yards Market as a vendor? Attend these TWO FREE computer lab workshops. We'll help you Workshops held at the Hispano Chamber of Commerce 1309 4th Street SW 87102
Hablamos español >> Servicios de traducción disponibles en la clase.
Intro Workshop Jan 17th (recommended for new vendors): What you need for this workshop: Yourself and an email account. We will answer..
How do you apply for the Rail Yards Market?
What types of Vendors can apply?
What permits, registrations etc are required?
What are the basic functions/areas of the vendor online system?
Advanced Workshop 24th (recommended for vendors who have already made an online account and applied): We will answer...
How are vendors selected?
What does your jury look for?
How can I increase my chances of being selected?

10am-2pm, Sundays, May-October
10-4pm in December for Holiday Market
777 1st Street SW
Albuquerque, New Mexico 87102
Email: RailYardsMarket@gmail.com
Voicemail: 505-600-1109