Food & NUTRITION at the Rail Yards Market
Rail Yards Nachos
The beautiful Dragon's Tongue green and purple beans that top off this week's New Mexico nachos are grown by Simple Revolution? Farm!. They are a small, sustainable bio-intensive and Permaculture farm in the South Valley, run by the awesome urban homesteaders, Scott and Patricia. They grow a large variety of food for their family to eat and to sell, focusing on heirloom varieties. They also raise pigs, chickens, turkeys, grow oyster mushrooms, and make an assortment of medicines, soaps, and health tonics. Wow! "The value of biodiversity drives our decisions. We integrate the patterns of our daily lives and our animals with our farm." They've been farming for 20 years and counting.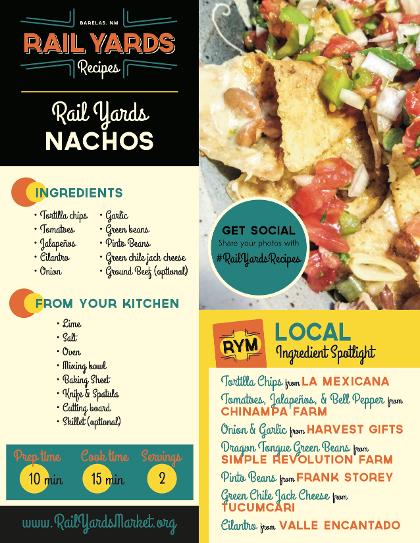 RAIL YARDS RECIPE BASKET PROGRAM
Rail Yards Recipes is an innovative program that makes eating fresh, healthy, and local food easy and fun! Each plentiful basket includes a colorful recipe with seasonal and fresh ingredients from small local farms and businesses from the middle Rio Grande Valley, with an emphasis on products from Rail Yards Market vendors. A detailed instructions card features educational information on how to use cooking equipment, information on farms and vendors who supply products, easy-to-follow verbal and visual steps make cooking the meal easy even for the most inexperienced chef-to-be. Ingredients are pre-portioned, and recipes are designed to create a hearty and healthy meal for two.
Eating local is easy and affordable with Rail Yards Recipes! Each basket is priced on a sliding scale model; our goal is to increase access to local and fresh ingredients, so we offer discount pricing for multiple baskets for families and low-income and EBT customers.
Recipe Baskets are currently available for pick-up at the market from 10am-2pm (as supplies last).